Accommodation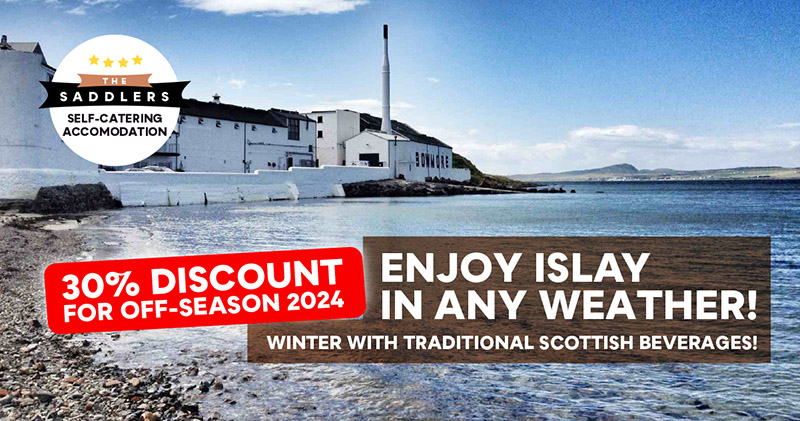 ENJOY ISLAY IN OFF-SEASON 2024 with 30 % DISCOUNT!
Holidays with traditional Scottish beverages!
SPECIAL OFF-SEASON 2024 PRICES - 30 % OFF! Self catering accommodation at The Saddlers suitable for travellers or travel groups. Special events for drink collectors, extra discounts for "W" club members - don't be afraid to come & enjoy everything in winter & spring. Plus special discount prices for returning customers (discounts do not add up)!
The property accommodates up to 11 guests.
Ground floor
Open plan living,dining and kitchen area. Patio doors lead out onto the decking. Two en suite bedrooms.
The first floor
Two front facing en suite bedrooms. Two superior ensuite bedrooms facing towards the loch with patio doors leading out to your own private balcony: under floor heating / throughoutfreeview tv in all rooms / WiFi / non smoking / no pets / fresh linen and towels provided / washing machine / dishwasher / tumble dryer.
2023 availability and pricing schedule
| Date range | Price per week | Date range | Price per week |
| --- | --- | --- | --- |
| 01.04. - 30.09. | £1890 | 01.10. - 31.03. | £1890 |
2024 availability and pricing schedule
| Date range | Price per week | Date range | Price per week |
| --- | --- | --- | --- |
| 01.04. - 31.12.2024 | £2190 | Feis Ile | £2790 |
To make a booking or enquiry about availability, please fill contact form at bottom or e-mail carol@lexpride.co.uk with the following details:
Name
Contact e-mail address & phone number
Date of arrival, date of departure
Number in party
Any special requirements we shall then reply and confirm availability and the price for the period you require
What we do as a Sanitation process against the Covid-19
• we wash our hands with hand-sanitiser or hot running water,
• we have hand-sanitiser prepared at the door for you too,
• we use clean gloves for each cleaning,
• we have an extra protectors for pillows and mattress - clean for each changeover,
• Rooms / all property is ventilated whilst cleaning,
• we have appropriate equipment,
• we sanitize the work surfaces and door handles,
• we wear appropriate protective clothing – gloves, apron and mask where appropriate,
• we remove waste, dirty linen and towels and carry out any initial cleaning required,
• we use gloves to remove dirty linen, pillows, duvets, towels, bathmats, tea towels andy other removable linen items diretly into bags,
• we place waste of any kind in a plastic bag, tied and removed from the property and dosposed of in an external bin,
• we do cleaning using general cleaning products,
• we disinfect using appropriate products and ensuring it is left on the surface for the required time to kill the virus.
Reservation form