About us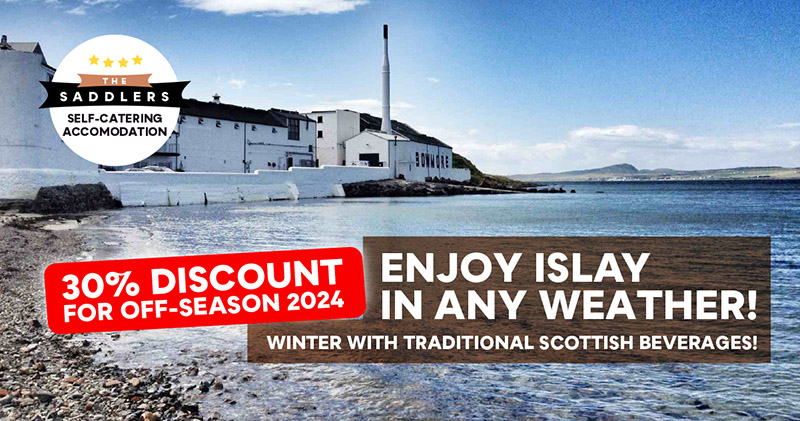 The Saddlers - accomodation is a traditional two storey house on the preferred seaward side in the heart of Bowmore.
Exclusive self catering six bedrooms accomodation in shore street Bowmore. The house is on the seaward side of shore street with views looking out directly over Bowmore harbour.
The lounge features full height window patio doors. It has two large sofas and a flat screen hd tv including free sat and wifi access. The kitchen/ dining room has seating for up to 8 for dinner. The kitchen is well fitted with a range of modern units and includes a dishwasher, fridge freezer, free standing cooker, microwave and coffee maker.
The saddlers house was at one time in its history an old cobblers shop making and repairing horse saddles. This property has been recently renovated throughout to a six bedroom en suite accomodation.
It looks directly over the harbour with panoramic views over lochindaal and stunning sunsets late into the summer nights.
With its traditionally white painted front exterior, you could be excused for thinking the saddlers is similar to the other privately owned houses along the loch side of shore street but there is so much more inside: recently redecorated and tastefully furnished it provides you with that real homely yet luxurious feeling you want during your stay on Islay.
What Islay Offers
---
Islay, the 'Queen of the Hebrides', is probably best known for its peaty, smoky whiskies. Some say they are the best in the whole world. Home to eight working distilleries, Islay definitely has the process of making the stuff down to a fine art. Sláinte!
Even if whisky's not your favourite drink, (though it soon will be!), Islay still promises an amazing experience with its birdlife, seafood and dramatic coastal seascapes, and who knows, you might even develop a taste for it after your visit!
The Whisky
Peat is still cut from the mosslands, giving the 'Islay malts' their distinct flavours. The island is perfectly placed for whisky production, with its pure water source, sea spray and fertile lands for growing barley. The distilleries welcome visitors to watch the production process and, even better, sample their delights.
Islay is one of five whisky distilling localities and regions in Scotland whose identity is protected by law. There are eight active distilleries and the industry is the island's second largest employer after agriculture. Those on the south of the island produce malts with a very strong peaty flavour, considered to be the most intensely flavoured of all whiskies. From east to west they are Ardbeg, Lagavulin, and Laphroaig. On the north of the island Bowmore, Bruichladdich, Caol Ila and Bunnahabhain are produced, which are substantially lighter in taste. Kilchoman is a microdistillery opened in 2005 toward the west coast of the Rinns.
The oldest record of a legal distillery on the island refers to Bowmore in 1779 and at one time there were up to 23 distilleries in operation.For example, Port Charlotte distillery operated from 1829 to 1929 and Port Ellen is also closed although it remains in business as a malting. In March 2007 Bruichladdich announced that they would reopen Port Charlotte distillery using equipment from the Inverleven distillery.
What we do as a Sanitation process against the Covid-19
• we wash our hands with hand-sanitiser or hot running water,
• we have hand-sanitiser prepared at the door for you too,
• we use clean gloves for each cleaning,
• we have an extra protectors for pillows and mattress - clean for each changeover,
• Rooms / all property is ventilated whilst cleaning,
• we have appropriate equipment,
• we sanitize the work surfaces and door handles,
• we wear appropriate protective clothing – gloves, apron and mask where appropriate,
• we remove waste, dirty linen and towels and carry out any initial cleaning required,
• we use gloves to remove dirty linen, pillows, duvets, towels, bathmats, tea towels andy other removable linen items diretly into bags,
• we place waste of any kind in a plastic bag, tied and removed from the property and dosposed of in an external bin,
• we do cleaning using general cleaning products,
• we disinfect using appropriate products and ensuring it is left on the surface for the required time to kill the virus.